"I have seen the future of my profession, and it does not include me,"
so kommentierte JJ Sutherland von NPR (National Public Radio) die Nachrichtensendung
News at Seven
, die von einem Avatar moderiert wird und seinen Nachrichtenmix automatisch aus dem Web zusammenstellt. "All without human intervention" - endlich! Endlich?
Vielleicht haben wir Spätgeborenen viel mehr zu verlieren als unseren Job. Wenn wir die Selektion von Inhalten einem automatischen System überlassen, delegieren wir eine Kulturtechnik, die möglicherweise unser Überleben gesichert hätte. Die Fährte legte Hannes Treichl in seinem
anders/denken-blog
.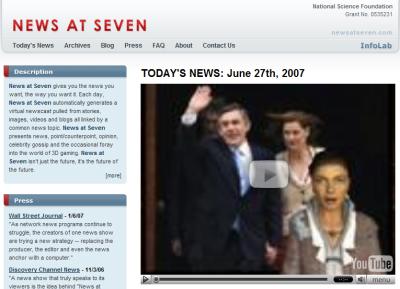 Ein Kommentar von JJ Sutherland´s Beitrag verweist übrigens auf das Unternehmen
Thomson Financial
, das eine Software entwickelt hat, die einen Computer in die Lage versetzt, aus unterschiedlichen Daten kleine Newstexte zu schreiben. Mehr dazu auf
Marketplace
. Da gehts jetzt um meinen Job, oder?
coyote05 - 28. Jun, 16:07