"The very thing the 16 skiers and snowboarders had sought — fresh, soft snow — instantly became the enemy. Somewhere above, a pristine meadow cracked in the shape of a lightning bolt, slicing a slab nearly 200 feet across and 3 feet deep. Gravity did the rest."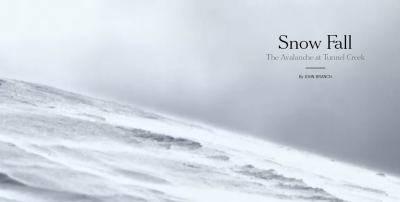 Wie schnell aus dem weißen Traum ein Albtraum wird, zeigt dieser Artikel aus der
NY Times über das Lawinenunglück am Tunnel Creek
in den Cascades. Eine penibel recherchierte, perfekt aufbereitete und überaus bewegende Analyse des Unglücks, die auch die psychischen und soziodynamischen Komponenten bei Gefahrenbeurteilung und Entscheidungsfindung miteinbezieht. Ein Muss für alle, die im Backcountry unterwegs sind.
coyote05 - 31. Jan, 10:47